Introduction to South West University of Political Science and Law
South West University of Political Science and law (SWUL) is a government-owned school established in the year 1957, under the name Southwest Institute of Political Science and Law (SWIPL). After a long journey of revolution and development, in 1995 the school changed its name to Southwest University of Political Science and Law (SWUPL), with the approval of the former State Education Commission.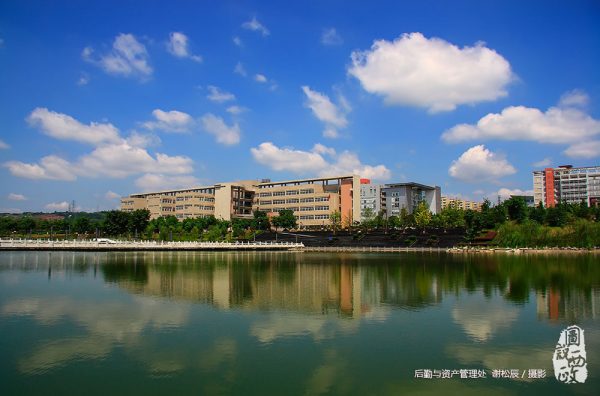 About SWUPL
The school's success has been escalated by its adherence to its motto "Learn extensively, practice devotedly, embrace virtue and stress law", promoted by its operation idea "Teaching solidities the school, talents thrive the school, research strengthens the school and managing the school according to law", and embodied in its spirit of "Vision, Effort, United and Discretion". In October 2012, the Ministry of Education and the Chongqing Municipality entered into an agreement to jointly sponsor the development of the school. 
SWUPL currently offers bachelor, master's and doctoral degrees, with its economic law and procedural law being national key programs. It has a bias in legal sciences and seeks an all-inclusive coordinated development of philosophy, economics, literature, management, and engineering.  
SWUPL location
The school has its location in Chongqing, a major city located in the Southwest of the People's Republic of China. The city is one among the four municipalities that are governed by the central government, and the only municipality located far away from the Coast. The city is one of China's tourist attraction centers. It holds abundant tourist resources, and in 2012 was ranked among the top 10 tourist attractions in the world by Frommer's; a famous tour guide of the U.S.  
Schools
It has 14 schools that include School of Civil and Commercial law, School of Economic Law, Law School, School of Administrative Law, School of International Law, School of Criminal Investigation, School of Management, School of Economics, School of Foreign Languages, School of Journalism and Communication, School of Politics and Public Administration, School of Marxism, School of Applied Law, and School of Juris Master. 
Scholarships
There are 2 types of scholarships offered to students at SWUPL. They include:
Chongqing Municipal Government Mayor Scholarship.
President Scholarship of Southwest University of Political Science and Law
 These scholarships cover doctoral, masters and undergraduate programs. 
Campus
Currently, the school has two campuses. The main campus located in Yubei while the other campus is located in Shapingba district, together covering a total area of more than 3000 mu (approximately 500 acres, or 2 kilometers squared). The Yubei campus is the education center for undergraduates and postgraduates, while the Shapingba campus was founded for continuing education and cadre training. 
The city is also strategically placed at the conjunction of Yangtze River and the Jialing River, surrounded by mountains and two rivers, which provide students with a view of beautiful sceneries in their experience of China. 
Campus life 
Additionally, the school provides some free facilities including sports activities to its students. It encompasses a friendly student body and a cooperative supporting staff who are ready to help both in personal and academic problems.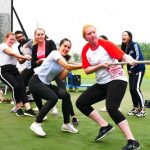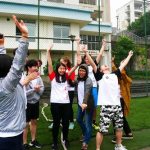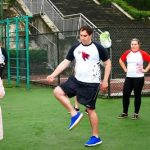 Campus Map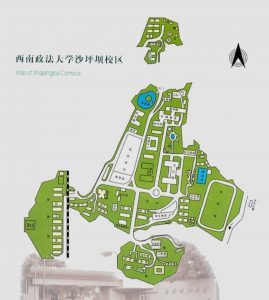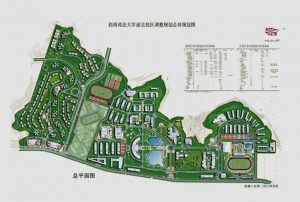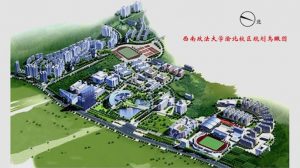 Students association 
SWUPL encourages its students to participate in student associations. The associations have excelled in different fields over the recent years, for example, the Art teams won first prize in the 3rd Student Art Exhibition, a silver medal in the World Choir Games, and the 9th Chinese Music "Golden Bell Award", respectively, as well as some other special awards.  
The students have also exhibited good results in sports including volleyball, track and field, basketball, martial arts, sports dance, and aerobics matches.  
In the Spirit of promoting the debate culture, the school established the Speech & Debate Association. The debates are carried out in various languages including English and Chinese mandarin language. The school's Chinese debate team has participated in all levels of debating competitions and won the champion of the 8th Chinese Elite University Debating Invitational and of the 2010 "World Expo" Cross-Taiwan Straits Debating Competition: Imagination of Youth, respectively. 
SWUPL LLM
In 1979, SWUPL as it was then referred to, was conferred the power to offer Masters of Law (LLM). This and other postgraduate programs are offered at the Yubei campus, however, the school specializes mainly in Chinese Law LLM program. The program runs for about two years, and students should expect a vigorous curriculum that involves a combination of coursework, research, and a master's thesis. The programs afford students valuable China experience and prepare them for in their career either in China or abroad.